Custom Stock Handfans
Our Fans are printed on 16 point C1S coated board stock for one sided printing with the finest lithographic techniques. For excellent color matching, all two sided fans are printed on C2S board stock. All fans are made with a 8" basswood handle, which is adhered with adhesive to the back. Fans are also available sandwiched with the handle glued between two fans.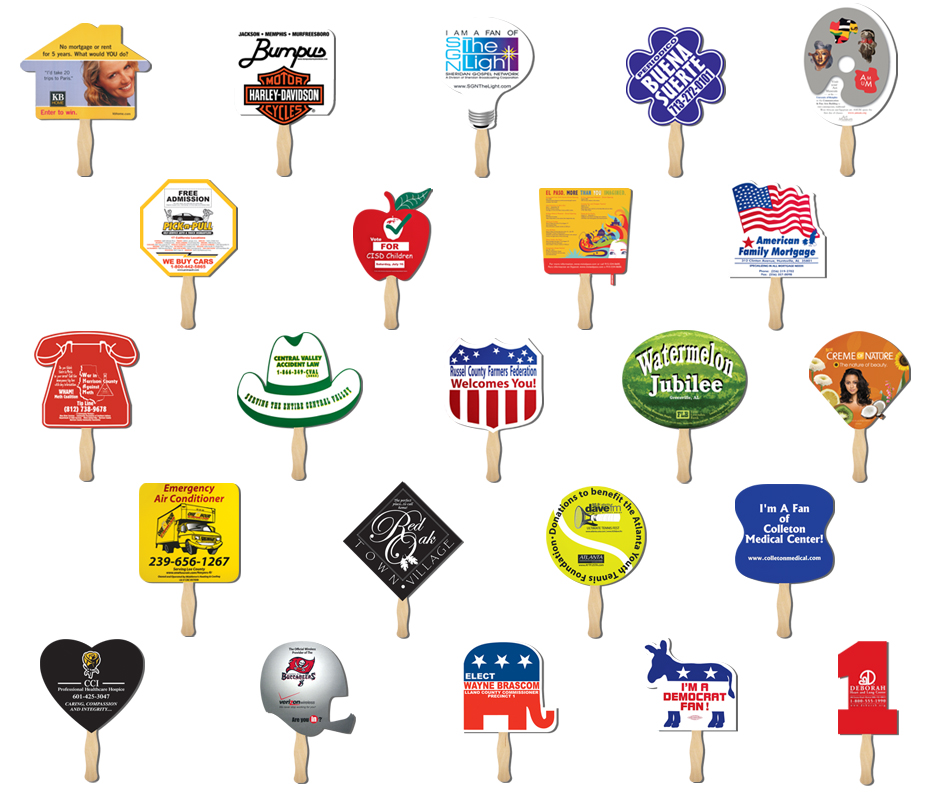 Custom Stock Handfan Charges & Imprints
Pricing shown includes printing any one standard PMS color. For each additional PMS color add one color running charge and one plate charge of $20.00. For full color process add three color running charges and one setup of $75.00. No plate charges on exact re-orders.
| Item # | 125 | 250 | 500 | 1000 | 2500 | 5000 | 10M |
| --- | --- | --- | --- | --- | --- | --- | --- |
| Stock Shapes | 1.158 | 0.508 | 0.358 | 0.308 | 0.283 | 0.258 | 0.242 |
| Charge Per Addt'l Color | 0.385 | 0.192 | 0.092 | 0.067 | 0.050 | 0.033 | 0.025 |
| Stock Sandwiched | 1.425 | 0.950 | 0.667 | 0.575 | 0.525 | 0.458 | 0.425 |
| Charge Per Addt'l Color | 0.385 | 0.192 | 0.092 | 0.067 | 0.050 | 0.033 | 0.025 |
| Mini | 0.825 | 0.367 | 0.275 | 0.242 | 0.217 | 0.192 | 0.183 |
| Addt'l Color/Second Side | 0.342 | 0.167 | 0.083 | 0.050 | 0.042 | 0.025 | 0.017 |