Custom Photo Frame Magnets
Our custom photo frame magnets are a great way to utilize our 2-piece magnet concept. We can print images and or text on the exterior portion of the magnet and interior (removal), allowing you to place a photo of your choice. We have different stock templates to choose from.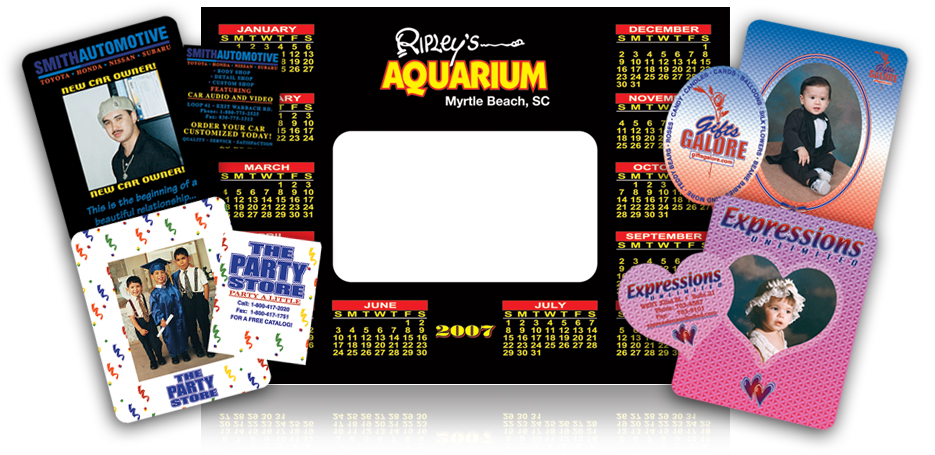 Our custom photo frame magnets are 20 mil thick. Printing is offset lithography on paper. The paper imprints are laminated with ultra clear mylar film, applied to vinyl magnet material and then die cut. Custom cutting dies insure clean cuts and tight registration.
Custom Photo Frame Charges & Imprints
Pricing shown includes printing any one standard PMS color. For each additional PMS color add one color running charge and one plate charge of $25.00. For full color process add three color running charges and one setup of $75.00.
Custom Photo Frame Magnet Packaging
Standard packaging is bulk pack in poly-bags in the quantities shown. For individual poly bags add .10 each.
Along with our many years of manufacturing experience, we use only the highest quality materials and highly advanced, state of the art computerized machinery to produce your Custom Printed Magnets
Please send us your design for your Custom Printed Magnets and let our highly experienced design team help you prepare a final proof of your custom design. We will make creating your Custom Printed Magnet Design easy and fun.
Please take a moment now to review the very informative pages of our site. Feel free to email us at sales@custommagnetoutlet.com or call us TOLL FREE at 1-800-670-9092 as our friendly and knowledgeable customer service representatives are standing by to answer any questions or take your order.
| Size | 125 | 250 | 500 | 1000 | 2500 | 5000 | 10M |
| --- | --- | --- | --- | --- | --- | --- | --- |
| 4" x 3 1/4" | 1.480 | 0.784 | 0.590 | 0.391 | 0.318 | 0.242 | 0.225 |
| Item # | 125 | 250 | 500 | 1000 | 2500 | 5000 | 10M |
| --- | --- | --- | --- | --- | --- | --- | --- |
| BL-5675 4" x 6" | 1.83 | 1.1128 | 1.032 | 0.705 | 0.533 | 0.442 | 0.403 |
| BL-5680 4" x 7" | 1.83 | 1.1128 | 1.032 | 0.705 | 0.533 | 0.442 | 0.403 |
| BL-5685 5" x 7" | 1.83 | 1.1128 | 1.032 | 0.705 | 0.533 | 0.442 | 0.403 |