Custom Button Magnets
Our button magnets feature the same high quality lamination and printing as our Ad-Buttons and are made with strong, 40 mil FULL MAGNET BACKS, not small magnet pieces or magnets under a collet.
Button Magnet Charges & Imprints
Pricing shown includes printing any one standard PMS color. For each additional PMS color add one color running charge and one plate charge of $25.00. For full color process add three color running charges and one setup of $75.00.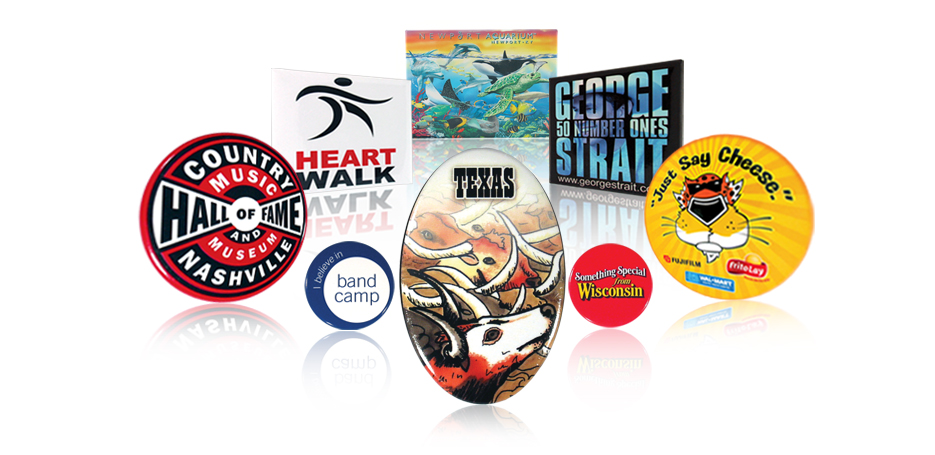 Custom Button Packaging
Standard packaging is bulk pack in poly-bags in the quantities shown. For individual poly bags add .10 each.
Along with our many years of manufacturing experience, we use only the highest quality materials and highly advanced, state of the art computerized machinery to produce your Custom Printed Magnets
Please send us your design for your Custom Printed Magnets and let our highly experienced design team help you prepare a final proof of your custom design. We will make creating your Custom Printed Magnet Design easy and fun.
Please take a moment now to review the very informative pages of our site. Feel free to email us at sales@custommagnetoutlet.com or call us TOLL FREE at 1-800-670-9092 as our friendly and knowledgeable customer service representatives are standing by to answer any questions or take your order.
Custom Button Magnet Pricing

Item #
Size
Shape
125
250
500
1000
2500
5000
10K
BL-3220
1 1/4"
Round
$1.365
$0.756
$0.599
$0.455
$0.373
$0.355
$0.308
BL-3230
1 1/2"
Round
$1.365
$0.798
$0.620
$0.473
$0.409
$0.373
$0.325
BL-3240
1 3/4"
Round
$1.365
$0.840
$0.641
$0.491
$0.427
$0.391
$0.342
BL-3245
2"
Round
$1.470
$0.893
$0.662
$0.500
$0.436
$0.400
$0.350
BL-3250
2 1/4"
Round
$1.575
$0.903
$0.725
$0.509
$0.445
$0.436
$0.392
BL-3260
2 1/2"
Round
$1.680
$0.977
$0.746
$0.536
$0.473
$0.464
$0.417
BL-3270
3"
Round
$1.680
$1.103
$0.914
$0.691
$0.645
$0.618
$0.542
BL-3280
3 1/2"
Round
$1.407
$0.914
$0.798
$0.527
$0.509
$0.473
$0.425
BL-3330
1 1/2"
Square
$1.365
$0.798
$0.641
$0.455
$0.427
$0.400
$0.358
BL-3340
2"
Square
$1.407
$0.914
$0.798
$0.527
$0.509
$0.473
$0.425
BL-3350
2"
Round Sq.
$1.586
$0.987
$0.893
$0.609
$0.573
$0.555
$0.492
BL-3355
1 1/2" x 2"
Rectangle
$1.575
$0.945
$0.641
$0.482
$0.445
$0.418
$0.375
BL-3360
1 3/4" x 2 3/4"
Round Rect.
$1.628
$1.050
$0.830
$0.609
$0.545
$0.518
$0.467
BL-3370
2" x 3"
Rectangle
$1.628
$0.987
$0.756
$0.555
$0.491
$0.482
$0.433
BL-3380
2" x 3 1/2"
Rectangle
$1.628
$0.987
$0.872
$0.627
$0.573
$0.545
$0.492
BL-3385
2 1/2"
Square
$1.575
$0.966
$0.872
$0.591
$0.555
$0.545
$0.483
BL-3390
2 1/2" x 3 1/2"
Rectangle
$1.890
$1.260
$0.893
$0.645
$0.609
$0.591
$0.508
BL-3420
2 1/4"
Heart
$1.365
$0.977
$0.798
$0.655
$0.600
$0.564
$0.500
BL-3430
1 3/4" x 2 3/4"
Oval
$1.575
$0.945
$0.735
$0.555
$0.518
$0.500
$0.450
Charge per additional color
$0.315
$0.137
$0.084
$0.047
$0.028
$0.019
$0.016
Consecutive Numbering
$0.725
$0.347
$0.206
$0.107
$0.101
$0.087
$0.084